By: Jessica Levinson, MS, RDN, CDN —The kids are back in school, after-school activities are in full swing, and before you know it the holiday season will be here. It's not so easy to get a healthy meal on the table when there's so much going on in the household, especially when you're shuttling the kids around town.
Early mornings and late nights at soccer practice and dance class may lead your family to stop for take out more often than you'd like, which means your family is likely eating larger portion sizes and more calories, sodium, saturated fat, and sugar than they would be if eating home cooked meals. But that doesn't have to be the case. With a little bit of planning, cooking at home can become a reality. If you spend some time over the weekend planning for the week ahead, it will be much easier to implement this change for the family.
For breakfast, stock the fridge with hard-boiled eggs and individual containers of low-fat yogurt or cottage cheese. Don't be afraid of fruit-flavored yogurts that are made with sweeteners – the nutritional benefits of yogurt (i.e. calcium, vitamin D, protein) are worth a few extra calories and increased palatability, especially for kids. You can even prepare smoothies the night before and quickly re-blend in the morning. This Blueberry Pomegranate Smoothie is a good source of protein and antioxidants and the pretty color will certainly excite the kids first thing in the morning.
Whole grain frozen waffles or pancakes spread with nut butter and topped with fresh fruit are another quick and easy breakfast the kids will love. You can also make a batch of egg muffins over the weekend, store them in the freezer, and defrost in the microwave in the morning. Overnight oats are another popular timesaving breakfast option.
If you're packing lunch for the kids or yourself, keep it simple and balanced by filling bento-style lunchboxes with a protein, whole grain, vegetables, and fruit. Or put reheated leftover pasta dishes or hearty soups like lentil or chicken noodle in a thermos, which will keep it warm until lunchtime. Think outside the box when it comes to sandwiches – use romaine lettuce leaves as a sandwich wrap or use two cucumber rounds as the "bread" for mini sandwich bites. Fill them with tuna, chicken, or salmon salad. And don't forget to pack a bottle of water to stay hydrated without the extra calories of soda or juice.
Eating dinner as a family is the biggest challenge of all for many families. To ease the burden, start with a small goal of cooking at home once or twice a week and work up to more as the schedule permits. Remember the MyPlate graphic when choosing what to make: lean protein, whole grains, vegetables, healthy fats, and a serving of dairy is all you need. Make big batches of soups and stews, which can be frozen and saved for a busy weeknight when you don't have time to cook.
Get more recipes and tips in this guide to back to school meal planning.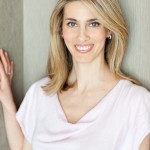 Jessica Levinson, MS, RDN, CDN is a registered dietitian nutritionist and culinary nutrition expert. She has extensive experience as a recipe developer, writer, editor, and speaker. She is the co-author of We Can Cook: Introduce Your Child to the Joy of Cooking with 75 Simple Recipes and Activities (Barron's, 2011), past columnist for the Culinary Corner column in Today's Dietitian Magazine, and maintains a popular blog at JessicaLevinson.com. Jessica is an active member of the Academy of Nutrition and Dietetics (AND) and various Dietetic Practice Groups of the AND, including Nutrition Entrepreneurs, Food and Culinary Professionals, and Dietitians in Business and Communications. Follow her out on Twitter, Facebook, Instagram, and Pinterest.